Remote Site Kitchen 100
The remote site kitchen 100 is a large single unit portable modular kitchen which provides an instant kitchen facility that can be delivered worldwide. As it is a single kitchen unit, it requires very little set up time on site, and is perfect for rapid response kitchen requirements.
The kitchen is available as either a modular facility if required immediately, or can be supplied as an ISO rated containerised kitchen and can be used to supply up to 500 meals per day. A dining facility can also be attached to this kitchen if required.
While we have illustrated a range of example equipment in the layout below, this kitchen can be supplied with your choice of catering equipment to reflect your needs and menu requirements. We can also add or units and dining units to tailor a facility to your exact needs.
Our temporary kitchens are prepared at our factory and shipped to your site from the UK.
Example Design and Specification

Example Equipment
Storage Racking 1800mm
Water Heater
Fly Killer
Wall Shelf 1200mm
Upright Refrigerator 400lt
Upright Freezer 400lt
Wall Table 900mm
Wall Table 1200mm
Catering Sink & Whb 1800 X 600mm
Wall Table 2100mm
600mm Double Basket Fryer
600mm Griddle – Electric
Plate Range – Electric
Extraction System
Kitchen Construction Options
Our remote site kitchens are either supplied as modular or ISO rated container facilities. Modular kitchens can be supplied pre-built or in flat pack format and offer the advantage of a speedy construction, while our ISO rated kitchens are supplied pre-built and comply with the latest international shipping regulations for transportation.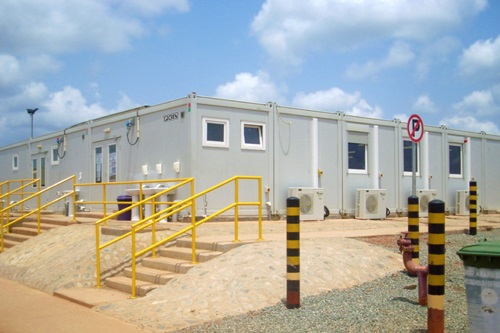 Modular Kitchens
PKL modular kitchens offer fast track kitchen and dining buildings which are quick and simple to install on site. The buildings comply with international construction standards and are shipped either fully erected or in flatpack format for the most cost effective results.
ISO Containerised Kitchens
Our ISO kitchens are containerised solutions which conform to standard shipping sizes and specifications and can be easily shipped worldwide. Due to their construction, they are strong and sturdy and arrive ready for immediate use.
Strong and durable with 25+ year lifespan.
Key Features
Prefabricated off site for quality control and rapid site installation
Built to international construction standards
ISO registered building unit and flat pack shipping system
Key Features
Bespoke design created to meet each client's required size and specifications
Built to international ISO shipping container standards, so easily transported by land, sea, air or rail
Delivered fully constructed and ready for immediate use
Strong and durable with 25+ year lifespan

Can produce up to 500 meals per day
Ideal for military field catering, rapid response solutions for refugee camps, small mining, oil and gas exploration camps, and remote feeders in larger camp complexes
Available as modular or ISO rated facility
Remote Site Kitchen Case Studies
We have delivered kitchens to some of the most remote locations around the world. These have been used in a number of different sectors, including as kitchen and dining facilities for remote site exploration and mining camps, and large scale construction sites. The case studies below provide some examples of how our remote site kitchens have been used by our customers. If you would like to see more of our case studies from around the world, please click here.
Sam Sam
Modular Kitchen, Dining and Laundry for Drilling Platform PKL was asked to supply both a remote site modular kitchen and dining facility, and a modular laundry, which was positioned on a drilling ship for a major offshore exploration company and used just off the coast of Gran Canaria. [...]
Sam Sam
Modular Kitchen and Dining Facility For International Workers in Nigeria PKL provided a modular remote site kitchen and dining facility for a client in the Nigerian port of Lagos, West Africa. The installation took place within an economic free zone in the city, strategically positioned at the entry [...]