Event Kitchen Hire
We're experts in providing temporary kitchens for events. Whether you need large scale facilities for major sporting events, or are catering at public events such as religious gatherings or music festivals we're vastly experienced in providing temporary catering solutions for events around the world.
If you're cooking from a marquee, putting catering equipment into an existing building or require temporary kitchen units to support your event our range of kitchens and catering equipment can provide the ideal support for your catering requirements.
Events in Europe and the Middle East
We specialise in the provision of temporary kitchens and catering equipment for medium and larger scale catering requirements for events throughout Europe and the Middle East, supplying over 500 each year. This includes mass public catering, crew and artist support, workers and volunteer catering or kitchens to support sponsors and hospitality.
All of our equipment is prepared and shipped from the UK to support your event. We can help with design, project management shipping and delivery as well as installation and commissioning.
Event types that we have supplied include:
Sporting Events (athletes, volunteer, workforce and fan park kitchens and dining)
Concerts (Artist and crew catering)
Air Shows (chalet catering)
Religious Gatherings (workforce and public catering)
Music Festivals (artist, crew, volunteer and workforce catering)
Scout and Guide Jamborees
Pop-up Restaurant Kitchens
Food Festivals (public and exhibitor catering)

We are vastly experienced in the design and supply of large scale temporary kitchens and dining facilities at some of the World's largest and most prestigious sporting events. The range of facilities that we are able to supply is outlined below.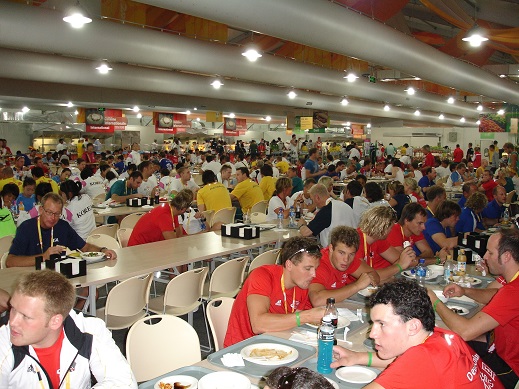 Athlete's Village Temporary Kitchen and Dining
Kitchen and dining complexes are used to feed athletes, officials and staff for major games. These are large scale facilities that can take up to 12 weeks to construct once we are on site, and are required to be operational 24 hours a day for the duration of the event. The athletes' village kitchen and dining facilities are supplied in large scale temporary structures and can typically seat around 6,000 people, providing up to 60,000 meals each day. They will often contain separate serving and dining areas for athletes, and staff and officials, and contain large scale production kitchens, and zoned servery areas providing a range of different world cuisine to cater for the tastes of participants from a large number of different countries.
IBC/MPC Temporary Kitchen and Dining
The IBC and MPCs house the world's press covering a major games, and due to deadlines and different time zones in home countries, are required to be operational at all times. With the number of journalists and press personnel often similar, if not greater than the number of participants in an international event, the catering operation in these venues is incredibly demanding throughout the period of a games.
Catering infrastructure for media and broadcast centres often involves a complex installation of catering equipment into an existing building or into a purpose built temporary structure. Catering infrastructure typically involves a number of large scale production kitchen facilities or central production units, complemented by a large number of servery areas (typically in excess of 500m of servery counters) with a small number of production facilities to back them up.
These are typically used to provide various types of menu to cater for the range of different nationalities using the facility.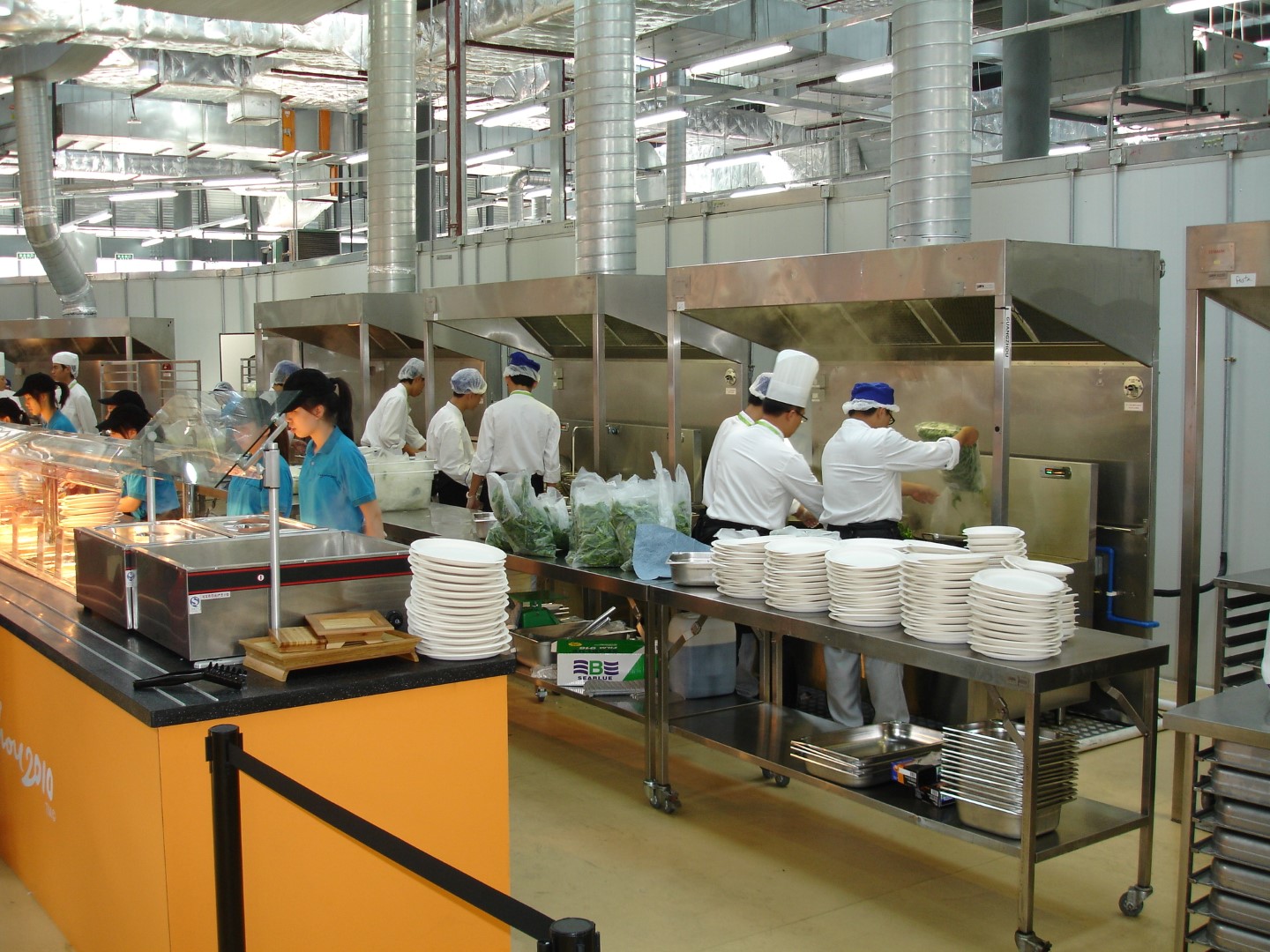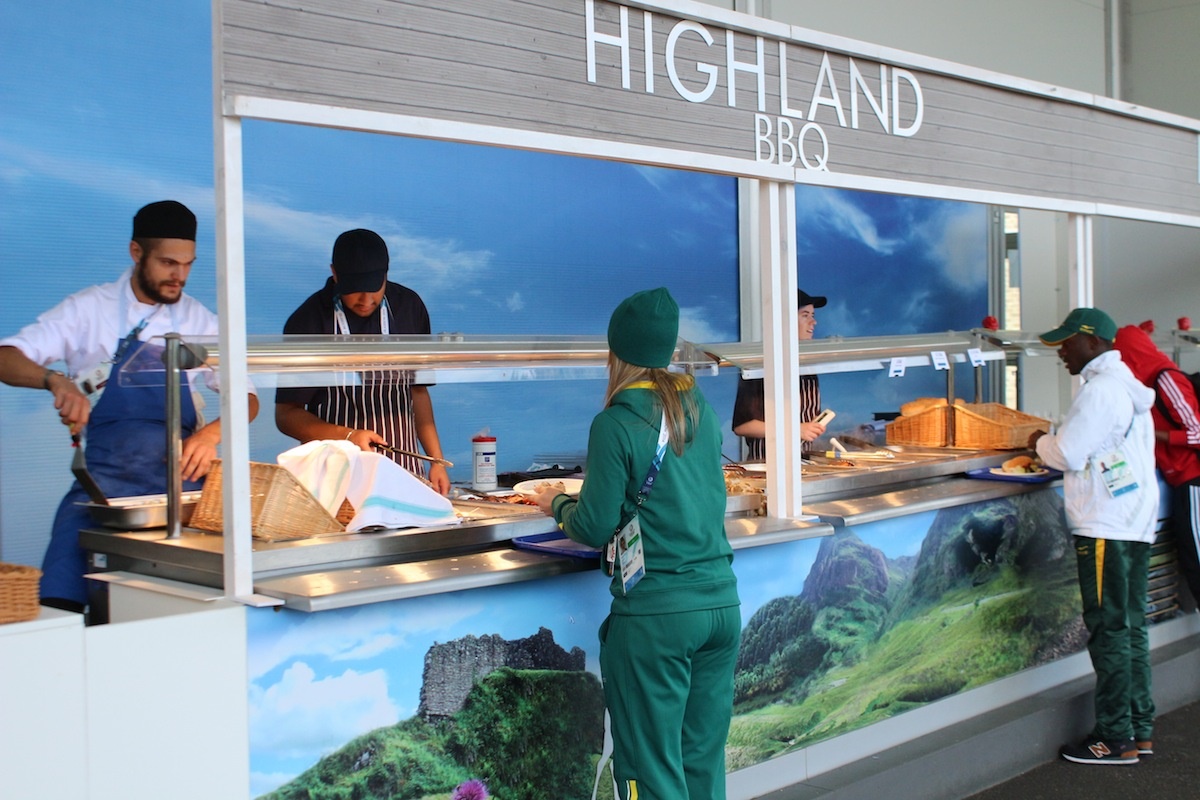 Corporate/ Sponsors Hospitality Catering and Casual Dining
Corporate sponsors and official hospitality areas present a variety of requirements and can range from large scale temporary kitchen and dining areas catering for thousands of guests and dignitaries, to smaller scale facilities capable of hosting a few hundred people. These areas often provide a five star dining service.
We have worked with large international event caterers, games delivery committees and games sponsors, to design and deliver the catering infrastructure required to keep their guests fed for the duration of major events.
We can also provide innovative solutions for casual dining and bar areas around the athletes' village.
Public Areas Catering
We also supply catering infrastructure for public restaurant areas used to provide food for the public at major events on a large scale. This can include installing temporary catering facilities for a large number of locations around a major event park, for use in outlets such as coffee shops, takeaways, bars and large scale public restaurants.
From an early stage, we will work with the appointed caterer for the public food areas at a major event, to ensure the successful design and delivery of temporary catering facilities.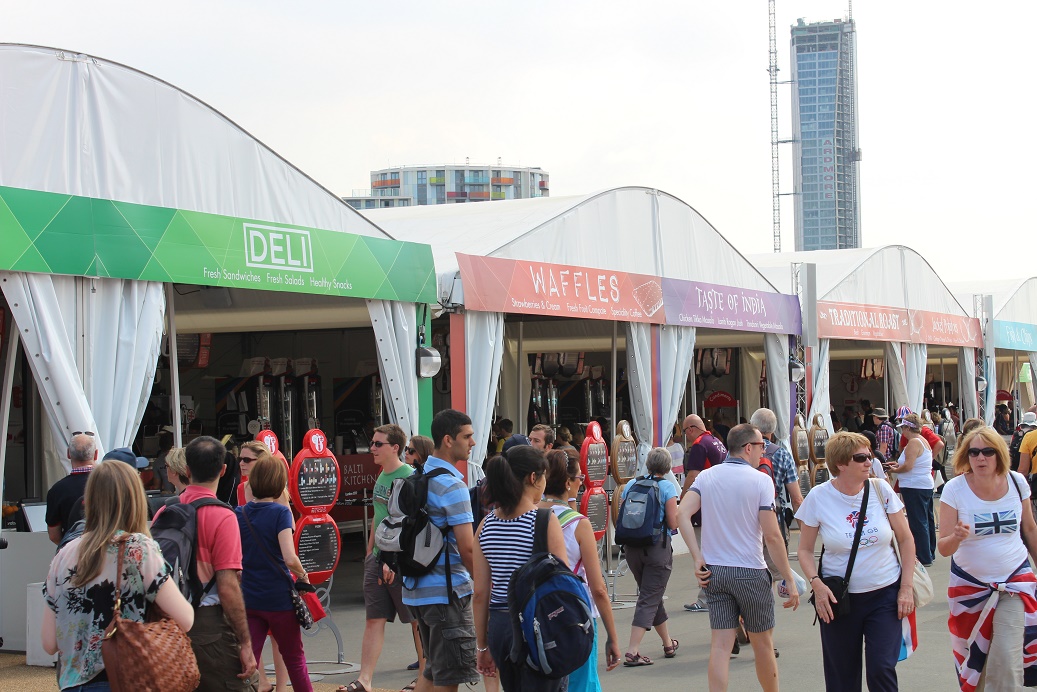 Complete Project Management
PKL offer a complete turnkey service when providing a temporary kitchen for a major event. For some events, this often includes a design consultation process that begins many years before it starts, and a full project team on the ground months before a games commences.
See Our Event Kitchens in Action
Medium Sized Event Kitchens
Whether you're catering for a medium sized event, or need to prepare hundreds of thousands of meals at a major games, we're able to help.
The videos above illustrate some of the event kitchens we've supplied around the world.
Case Studies
We have a huge amount of experience of providing temporary kitchens for events around the wolrd. The case studies below provide some examples of how our temporary kitchens have been used to provide catering facilities at events. If you would like to see more of our case studies from around the world, please click here.
Sam Sam
Commonwealth Games Temporary Kitchen and Dining Facilities for Athlete's Village Over 6,500 staff from over 70 different countries competed across 17 different sports at the Gold Coast 2018 Commonwealth Games. Additionally, there were over 2,500 workforce personnel. A temporary main kitchen and dining hall was set up to [...]
Sam Sam
Athlete's Village in Rio The Rio 2016 Summer Olympics was the largest mutli-sport event ever held in Brazil. 16,500 athletes and officials were housed in the athlete's village – with all being fed from a single main dining facility. PKL's contract, direct with Rio Olympic Committee, was for [...]
Sam Sam
Event Kitchen Hire for Taekwondo Championships The European ITF Taekwondo championships came to Liverpool's Echo Arena iand required a large scale catering operation to feed 1,200 athletes and competition staff three times a day, for one week. It was also essential to create a menu that made all [...]