Permanent Modular Kitchens
PKL designs and supplies permanent modular kitchen solutions, which are constructed offsite and delivered to you ready to connect to services and ready to go. Whether you're looking for a small, medium or large scale kitchen, or a retail catering solution we will design and build a modular facility based on your requirements.
Our permanent modular kitchen buildings can be constructed in as little as six weeks from order and are supplied with your choice of catering equipment.
We've also worked on a number of bespoke modular and containerised permanent kitchen requirements, so if you require a fully customised design, we are happy to help.

Whether you're looking for a single unit kitchen facility or a large scale open plan kitchen, our modular kitchens offer a flexible solution. We will work with you to design a kitchen that matches your requirements inside and out.
As our kitchens are constructed from individual modules they can be easily relocated if required or additional modules can be added at a later point if you need to expand your kitchen facility at a later date.
Our permanent modular kitchens are suitable for anyone with a commercial catering requirement and examples of industries that we have supplied include:
School kitchens
Prison kitchens
Modular cafés
Airline caterers
Food and drink manufacturers
Sporting venues
Touring shows
Leisure and hospitality parks

Retail Catering Solutions
Our retail catering solutions are ideal for adding additional food servery kiosks around your site. They arrive pre-built and ready to go and are a great way to help increase revenue from catering sales
Available in a number of different sizes they arrive at your site pre-built and with your choice of catering equipment inside
Our Food Cubes are a great way of introducing grab and go retail catering facilities at single or multiple points around your site.
Our modular kitchens are available in a wide range of finishes including wood cladding, brick slip, vinyl wrap or a pre-coloured exterior. The range of finishes ensures that your kitchen can be designed to meet your exact specifications or can be finished to match existing buildings on site. This is particularly useful when faced with stringent planning regulations.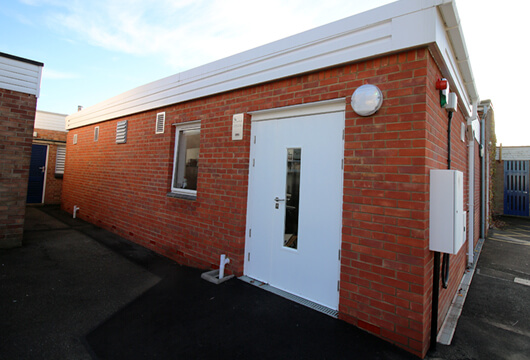 Brick Slip Exterior
If you require a traditional brick exterior, brick slips are available in a wide range of standard finishes. Additionally they can be produced to match an existing brick or stone finish if required so that your kitchen can match existing buildings on site.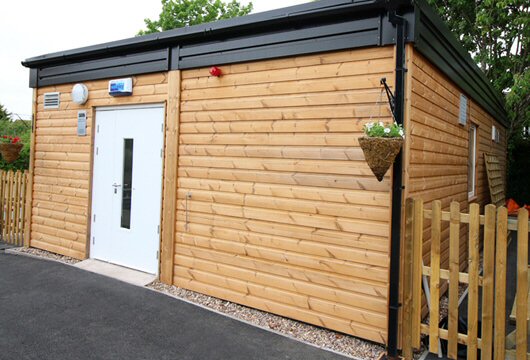 Wooden-Clad Exterior
The attractive wood cladding finish can be stained in a wide range of colours and designs, which can be complemented with colouring to the trim of the building. Cladding can be run horizontally or vertically on the building.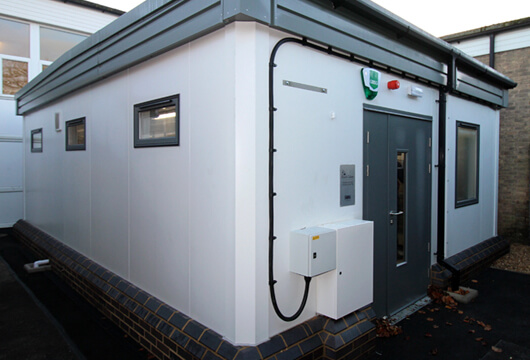 Pre-Coloured Exterior
KitchenPods are available in a wide number of standard coloured finishes. As part of the construction process, the building will be finished in a colour of your choice.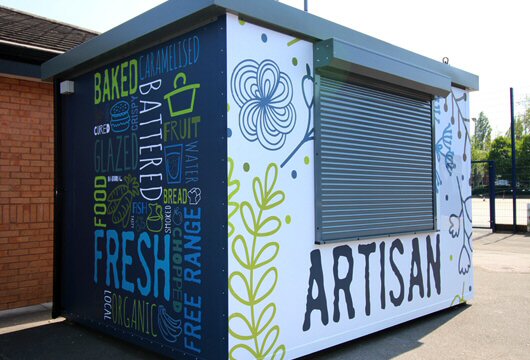 Vinyl Wrap Exterior
The vinyl wrap can be produced in any design required by the end user. Bespoke finishes are also available by providing a photo or customised design. Our internal design team are available to help if you would like a logo, branding or customised finish to your building.
We provide a complete turnkey solution, starting with design consultation and including delivery and shipping, installation and commissioning of units on site.
See Our Permanent Modular Kitchens in Action
Permanent Modular Kitchens
Kiosks and Retail Catering
See how some of our customers have used our modular facilities to provide permanent kitchen and dining spaces and retail and grab and go food outlets. Our permanent modular kitchens are designed inside and out to your specification and delivered to site ready to connect to services. Although they are permanent buildings, they are easily relocatable.
Case Studies
We have supplied 100s of permanent modular kitchens and food kiosks, used to provide a range of catering facilities including production and preparation kitchens, modular cafes and grab and go food serveries. The case studies below provide some examples of how our permanent modular kitchens have been used by our customers. If you would like to see more of our case studies from around the world, please click here.
Sam Sam
15 Modular Kitchens Supplied to Bahrain International Circuit The iconic Bahrain International Circuit Formula 1 venue was the first in the Middle East and has built an illustrious history since it was opened in 2004. In addition to F1,  the circuit hosts other motorsport experiences, as well as [...]
Sam Sam
Large Scale Modular Kitchen for a Prison PKL constructed a prison kitchen for a temporary custodial facility built alongside existing prison buildings. The 560 m sq modular kitchen was delivered to site 13 weeks after receiving the order from the main contractor and was handed over to the [...]
Sam Sam
Modular Kitchen and Cafe Facility After running their successful bike hire business, Pedalabikeaway, in the Forest of Dean, Ian Officer and Gareth Sheppard were looking to expand. When the Forestry Commission announced a tendering process to build and run a cafe at its popular lakeside Mallards Pike site, [...]